HARARE – Selected heavyweight counters weighed on the industrial index, which closed the week lower at 134.85 after dropping 0.62 (or 0,46 percent).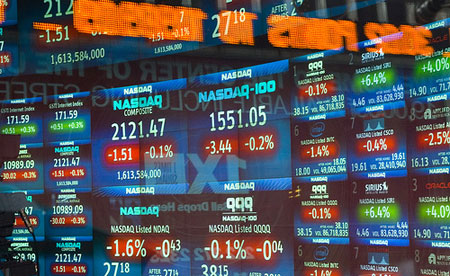 Meikles led the losers, shedding $0,0087 to close at $0,1100, while telecoms giant Econet lost $0,0098 to trade at $0,2702. Another heavyweight Delta eased $0,0026 to close at $0,8474, while retailer OK Zimbabwe declined $0,0020 to $0,0700. First Mutual was $0,0013 weaker at $0,0200.
On the upside, crocodile skin producer Padenga was up $0,0040 to trade at $0,0940 and NMB added $0,0001 to $0,0361.
The industrial index retreated 0.68 compared to the previous week.
The mining index was flat at 32.97 points as Bindura, Falgold, Hwange and RioZim all maintained previous price levels at $0.0250, $0.0040, $0.0340 and $0.1200 in that order.
But on a week-on-week comparison, the mining index lost 2.37.
Global Markets
Elesewhere across the world; emerging-market stocks and currencies headed for weekly declines as the US jobless rate fell to a level the Federal Reserve considers to be full employment, potentially bolstering the case for an interest-rate increase.
Developing nations are extending their losses this year as the Federal Reserve watches labor and inflation data to gauge when to raise its benchmark rate for the first time since 2006. The unemployment rate fell to 5.1 percent, the lowest since April 2008, Labour Department figures showed Friday. Fed Vice Chairman Stanley Fischer predicted last week that inflation will move higher, renewing speculation policy makers may opt for action at their September 16-17 meeting.
The MSCI Emerging Markets Index was poised for a 3.4 percent loss in the last five days, its 15th decline in the 19 weeks since April. Stocks have tumbled 11 percent since Aug. 11, when China unexpectedly devalued the yuan, deepening a rout amid concern that the slowdown in the world's second-biggest economy will damp global demand. A gauge of 20 developing-nation currencies headed for a 1.4 percent weekly decline, extending a record low.
"The data are not weak enough to trigger an emerging-market asset relief rally," Societe Generale strategist Bernd Berg said from London. "The option for a September rate hike remains on the table and emerging-market assets will remain under pressure. I expect the assets to sell off further ahead of the Fed meeting."
Beige book
The jobs report adds to an anecdotal survey called the Beige Book that showed the US economy expanded across most regions and industries in July and August, as tighter labor markets boosted wages for some workers. Investors now see a 28 percent probability the Fed will raise rates this month and a 40 percent chance of a move by October, according to trading in federal-funds futures. The chances for action in December were 59 percent.
Friday's data also showed American companies hired 173 000 workers in August, below economists' estimates for an addition of 217 000.
Even as China's mainland market remained closed Friday for a holiday after a military parade, the country's stocks listed in Hong Kong dropped to a two-year low. The Hang Seng China Enterprises Index slid 1.4 percent as investors speculated Shanghai-listed equities will fall when they resume trading Monday. The Hong Kong gauge has tumbled 23 percent this year, the worst-performing index in the world after Peru, as the boom in mainland equities turned to bust.
India's S&P BSE Sensex fell 2.2 percent, for a fourth week of declines and the lowest close since July 2014. Overseas investors sold a net $231 million of the nation's stocks on Sept. 2, paring this year's inflow to $4.1 billion.
Turkish tensions
In Turkey, the Borsa Istanbul 100 Index ended a two-day rally and moved toward a 1.8 percent weekly retreat. The lira was set for a seventh weekly loss, its longest streak since 2004. Even if Fed officials wait until December before raising rates, the lira may remain weak given local political tensions before a repeat general election in November, Rabobank strategist Piotr Matys said.
South Africa's benchmark stock index fell 1.4 percent, erasing a weekly gain. The rand weakened 0.4 percent versus the dollar.
Russia's ruble lost 0.5 percent. The yield on the nation's five-year government bonds increased two basis points to 11.86 percent. Russia is considering what could be the first sale of yuan bonds by a foreign government in mainland China.
The MSCI emerging-market gauge fell 1.2 percent to 792.14 at 8:45 a.m. in New York. The index trades at 10.4 times the projected earnings of its constituents, a 30 percent discount to advanced-nation stocks. The 20-currency measure lost 0.5 percent, slipping for a fourth day.
The premium investors demand to own developing-nation debt over US Treasuries widened four basis points to 400, according to JPMorgan Chase & Co indexes.
BLOOMBERG