Cape Town – A picture showing a frail-looking Grace Mugabe has gone viral on social media.
In the picture, a seemingly "wasted" Grace appears to be inside state house, standing next to an unidentified woman.
In the same picture, President Robert Mugabe is seen shaking hands with a man wearing a shirt with South African national flag colours.
This comes as the first lady's health remains a mystery, with Zimbabwean media quoting close family sources as saying she is suffering from colon cancer and is in Singapore for treatment.
"The first lady is suffering from colon cancer. She had an operation while on holiday in Singapore and has gone back there for treatment. About 30cm was removed, but now she is in a bad state. That is why she disappeared from the public spotlight," a relative was quoted as saying by the Zimbabwe Independent.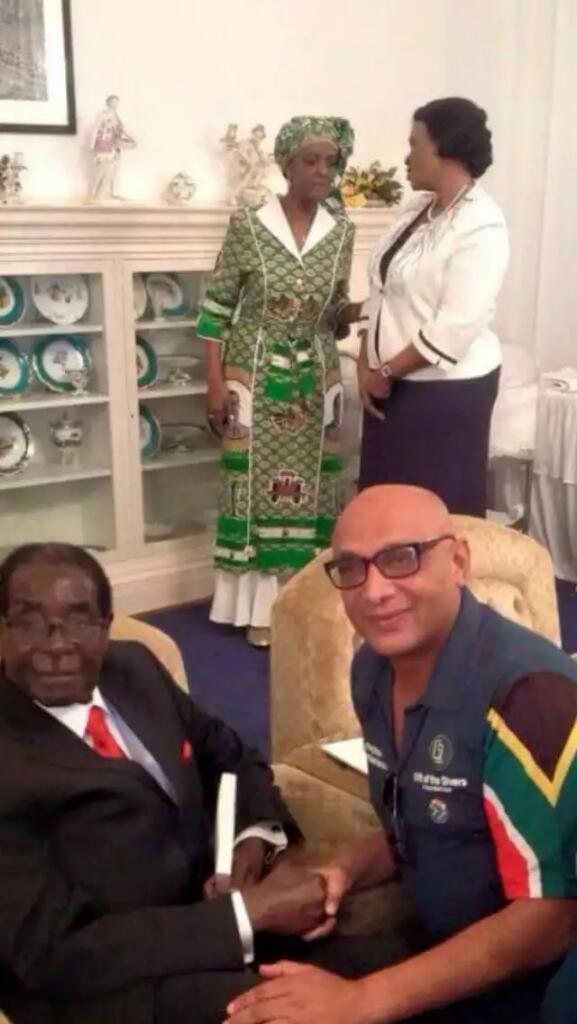 Last week a ruling Zanu-PF politburo member, Oppah Muchinguri confirmed that Mugabe's wife was not well and was seeking treatment outside the country.
Grace has not made a public appearance since 8 March, when she officiated during commemorations to mark the International Women's Day.
The first lady was forced to remain in Singapore in January after the first family's annual holiday, with Mugabe telling supporters on his arrival back home that the first lady had undergone appendix surgery.
Grace later came back home and said she was "fit" to drive the ruling party's women's league agenda.
She also revealed that the latest surgery was the third operation she'd had, after having her tonsils removed in 1986 and gall bladder surgery in 1996.
Grace dominated Zimbabwe's political space towards the end of last year when she was nominated to lead the Zanu-PF Women's League.
Meanwhile, Nehanda Radio reports that panic and fear has gripped many notable Zanu-PF officials who rose up the party structures through the coat-tails of influential but now ailing Grace. – News24
Related Posts
Sadc welcomes Zimbabwe's single-dose HIV tablet
New parents, but the sex is great
Back to its roots: how Zika may threaten
Ebola vaccine trial halted temporarily after joint pains:
Breakthrough for renal patient
How can developing countries get their doctors back?
Zimbabwe Fume Over Bona Mugabe's Healthcare in Middle
Matabeleland gets first specialised theatre
Tutu checks into hospital for infection
Argentine surgeon arrested 'while performing penis enlargement surgery