LONDON – British government Foreign Secretary Boris Johnson told the House of Commons, as it debates a state visit from President Trump, that the queen also met the dictator of Zimbabwe and the former head of Communist Romania.
The British Foreign Secretary on Monday attacked Donald Trump's "divisive and wrong" travel ban, as he faced a grilling from MPs on Monday evening (30 January).
The senior Conservative issued the statement to the House of Commons amid confusion over the US president's executive, which blocked those from Iran, Iraq, Sudan, Syria, Yemen, Libya and Somalia from travelling to America for 90 days.
"This is not UK policy, this is not our policy, nor is it a measure that this government would consider. I've already made clear our anxiety about measures that discriminate on grounds of nationality in ways that are divisive and wrong," Johnson said.
The Foreign Secretary said he contacted the US administration on Sunday to raise concerns about how the initiative would impact upon British citizens, such as Somali-born Sir Mo Farah.
"The general principle is that all British passport holders remain welcome to travel to the US," he said.
"We have received assurances from the US Embassy [in London] that this executive order will make no difference to any British passport holder irrespective of their country of birth or whether they hold another passport."
Johnson ended his statement by defending the so called "special relationship" between the UK and praising Theresa May for her "high successful" visit to the White House.
"Where we have differences with the United States, we will not hesitate from expressing them, as I have done today," he said.
"But we will also repeat our resolve to work alongside the Trump administration in the mutual interest of both of our countries."
But Labour's Shadow Foreign Secretary Emily Thornberry painted the government's response to the travel ban as weak. "We need a prime minister who's prepared to tell him to stop, not one who simply [offers] her hand and simply helps him along," she said.
The remarks come after Downing Street refused to revoke a state visit invitation to Trump. More than one million people have signed an online petition in a bid to stop the Republican meeting The Queen in June.
Thousands of people turned up to protest outside Downing Street on Monday night. Those attending included author Owen Jones, Green MP Caroline Lucas and singer Lily Allen.
The former London mayor is a consummate politician, whose appetites are as varied as his wit and a favourite of the press for the colourful copy his life and personality consistently deliver.
But there is the whiff of a 1940s colonial district administrator about his utterances when it comes to people and cultures from beyond his social circles.
Born in 1964, his attitude is from an earlier century, full of the arrogance of Empire and the condescension of so-called "civilisers".
This is Mr Johnson in 2002 writing a column critical of then Prime Minister Tony Blair's trips abroad:
"It is said that the Queen has come to love the Commonwealth, partly because it supplies her with regular cheering crowds of flag-waving piccaninnies…
"They say he is shortly off to the Congo. No doubt the AK47s will fall silent, and the pangas will stop their hacking of human flesh, and the tribal warriors will all break out in watermelon smiles…"
Mr Johnson has since apologised for these words, but they remain etched in history as at worst a bully's insult to those cheering children and at best the kind of joke delivered to like-minded people in the Monday Club or at an apartheid golf course.
During the referendum debate, Mr Johnson suggested that US President Barack Obama, who supported the UK remaining in Europe, had removed a bust of Winston Churchill from the Oval office because of an intrinsic dislike of icons of empire.
"Some said it was a snub to Britain," he wrote. "Some said it was a symbol of the part-Kenyan president's ancestral dislike of the British Empire – of which Churchill had been such a fervent defender."
Both Britain's World War II leader and Mr Obama had American mothers – but it is the "part-Kenyan" difference Mr Johnson sought to highlight, rather than the glaring similarities of the men he was writing about.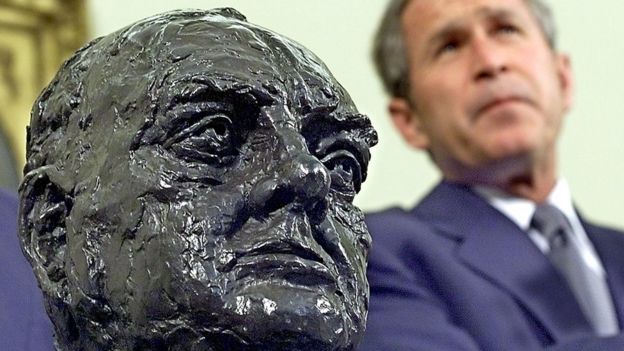 In February 2015, Mr Johnson aimed his acid pen at Zimbabwe's President Robert Mugabe on the occasion of his 91st birthday celebrations:
"In scenes reminiscent of the more disgusting and luxurious behaviour of the emperor Commodus, he will cause various exotic beasts to be slaughtered for the feast," he wrote.
"A local farmer has procured two elephants, and after these rare and majestic creatures have been butchered for the delectation of the semi-deified Mugabe, there will be one more type of meat to come – an animal that you might think was semi-sacred, whose killing should be taboo, a creature that people would never normally dream of eating.
"Yes, a lion, the king of the animal kingdom, will lay down its life before the meat-maddened mob…"